It has to be one of the most commonly asked questions, "Do Burpees Have Push Ups?"
Some people will tell you that there's no need to perform push ups with burpees.
Others will say that it's not a "proper" burpee without a push up.
So, who's right?
I'm going to introduce you to the 3 of the most popular types of burpees.
And then I'll let you know whether you should be doing push ups or not.
Do Burpees Have Push Ups?
The original burpee, as invented by exercise psychologist, Royal H. Burpee, in the 1930s, did not have a push up. It was a 3-movement sequence that required a squat, plank, and stand up. In fact, the original burpee wasn't even intended as an exercise, but rather as a physical test.
The Original Burpee (No Push Ups)
If we go back to the origins of the burpee, then there was definitely NO push up involved.
In truth, the inventor of the burpee (and possibly the most hated man in exercise and fitness), Royal H. Burpee, would probably be turning in his grave if he saw how we performed the "exercise" today.
The humble burpee was originally invented to be administered as a physical test.
In fact, the movement would only need to be performed 4 times.
Royal H. Burpee's version simply required a person to squat down, kick their feet out into a plank position, before bringing their feet back in and standing up.
So, not only was there no push up, and there was no hide nor hair of a jump or a clap.
To be honest, the original burpee is what we would refer to as a squat-thrust in the modern day-and-age.
If Mr. Burpee knew how we had massacred his physical test over the years, I'm sure he'd have plenty to say.
You can read more about the origins of the burpee in my article, Why Are Burpees So Hard?
The Crossfit Burpee
Many of us associate the burpee with Crossfit.
But, this is definitely one exercise they can't take credit for.
With that being said, a vast array of WODs (Workout of the Day) will typically contain burpees.
There is a common misconception that the Crossfit burpee contains a push up.
However, even if you watch the elite-level Crossfitters you will notice that there is no real "push" in order to raise the chest from the floor.
When performed at full speed the Crossfit burpee will see the chest come up and feet come in almost simultaneously.
How to Perform the Crossfit Burpee
Here's the standards required for a Crossfit burpee:
In the bottom position of the burpee the chest and thighs must come into contact with the ground.
Your feet must come back in together. There was a time when it was deemed permissible to step one foot in at a time (and this is still acceptable for beginners), but this has now changed.
Fully extend the hips, jump and clap overhead. For a rep to be "acceptable" you should be standing up fully before moving onto the next rep. So, no finishing in a bent-over position in anticipation of the next rep.
No Push Up Required
As speed is of the essence when performing Crossfit burpees, there is a leaning towards conserving as much energy as possible.
So, you could almost say that getting into the down position is literally like splatting yourself onto the floor, and there's no need for a strict push up.
In fact, a burpee with a push up is almost frowned upon by the Crossfit community.
Here's Ben Dziwulski to guide you through the Crossfit burpee.
You'll notice that as Ben is doing the movement fairly slowly (for instructional purposes), it almost appears as though he is pushing himself up.
However, Ben clearly states that you should not be doing a strict push up.
Crossfit Burpee – Top 6 Mistakes
The Spartan Burpee
Now here's a burpee that I'm far more familiar with after my own experience of the Spartan Race in June 2019.
The purpose of the Spartan burpee is as a penalty or punishment (isn't that the purpose of ANY burpee?)
Basically, you are competing in an obstacle course race.
The obstacles range from crawling through mud, carrying heavy objects, climbing ropes, moving across monkey bars, sneaking under barbed wire, jumping over fire, etc.
However, should you fail any obstacle then you'll incur a penalty.
And that penalty is to perform 30 burpees.
Just what you need when you're out of breath, covered in mud, and have almost been burned alive.
How to Perform the Spartan Burpee
The standards for the Spartan burpee are as follows:
In the bottom position your chest must touch the ground.
You must push yourself off the ground, thus performing a strict push up.
Fully extend your hips and stand upright.
Jump off the ground ensuring that both feet are in the air.
Your hands must go higher than your ears.
I can tell you now that during my training for the race I would often throw in 30 burpees numerous times in the middle of a workout.
I can't even begin to tell you how many burpees I performed over the course of a few months.
Let's just say that I eventually got to a stage when 30 burpees seemed like a treat in comparison to some of the other exercises.
Here's Jason Jaksetic giving you the lowdown on Spartan burpees.
Burpees – Spartan Race
Should You Do Burpees With Push Ups?
So, even though the "original" burpee didn't include push ups (and it wasn't even intended as a form of exercise), you're probably wondering whether you should be doing push ups with your burpees.
You may even want to know which one of the above burpees is the right way to do the exercise.
In truth, they are ALL the "the right way".
How you choose to perform burpees depends on your workout protocol.
That being said, you may not even be training for anything in particular.
You aren't following Crossfit or Spartan standards.
You're simply performing burpees because you know what a fantastic all-round exercise they are.
Look, these are just a few burpee variations, and realistically there are literally hundreds of ways to perform one of the most despised exercises in history.
RELATED====>What is a Navy Seal Burpee?
Whether you choose to include a push up or not is completely down to you.
If you choose to perform the original or Crossfit burpee you will typically do them much faster.
This will result in a more cardio-based workout.
However, that doesn't mean that performing Spartan-type burpees, with a strict push up, won't have your heart beating out of your chest too.
Burpees With Push Ups to Build Strength
By performing push ups during a burpee, the exercise does become slightly more anaerobic, as there is more focus on building strength in the upper body.
So, if you have the strength and are looking to increase the intensity of the burpee, then by all means complete a push up.
But, if you're someone who struggles to do push ups, or needs to work on their upper body strength, then you may be better off excluding the push up.
There's no point in trying to build strength in your upper body when you're struggling to catch your breath.
You'll end up doing a few crappy push ups that don't really achieve anything.
Break Up The Burpee
I often think breaking the exercise up into 4 parts is a great way to train the burpee and get better at it.
So, I see nothing wrong with training the bodyweight squat, push ups, planks, and jumps separately in one workout.
Even performing the 4 exercises as a circuit would be a fantastic workout.
Complete 10 bodyweight squats
Then 10 push ups
Then 10 planks (jumping your feet in and out counts as one rep)
And finally 10 jumps
Try completing all the above exercises without any rest in-between and that counts as one set.
Then depending on your current fitness levels you can complete 3-10 sets.
I'll guarantee that after a few sessions of this circuit, burpees won't seem so daunting after all.
Final Thoughts
So, it appears that the burpee never started out with a push up included.
But, then again, it was never intended to be used as a form of exercise.
Whether you choose to do burpees with a push up or not is solely down to personal preference.
Personally, I always include a push up in my burpees, but I'm also inclined to add various other exercises to the movement too.
I'm not adverse to burpees with pull ups, box jumps, manmaker burpees with dumbbells, etc.
I've even completed "laps" around my local park with burpees (jumping forward rather than up).
What I will say is that no matter how you choose to perform your burpees, it is one awesome exercise.
The burpee happens to be one of only 8 exercises included in Lane Goodwin's workout program.
He has produced a superb 12-week bodyweight training program that sticks with the basics, but promotes both muscle growth and fat loss.
You can discover more in my Ripped With Bodyweight Review.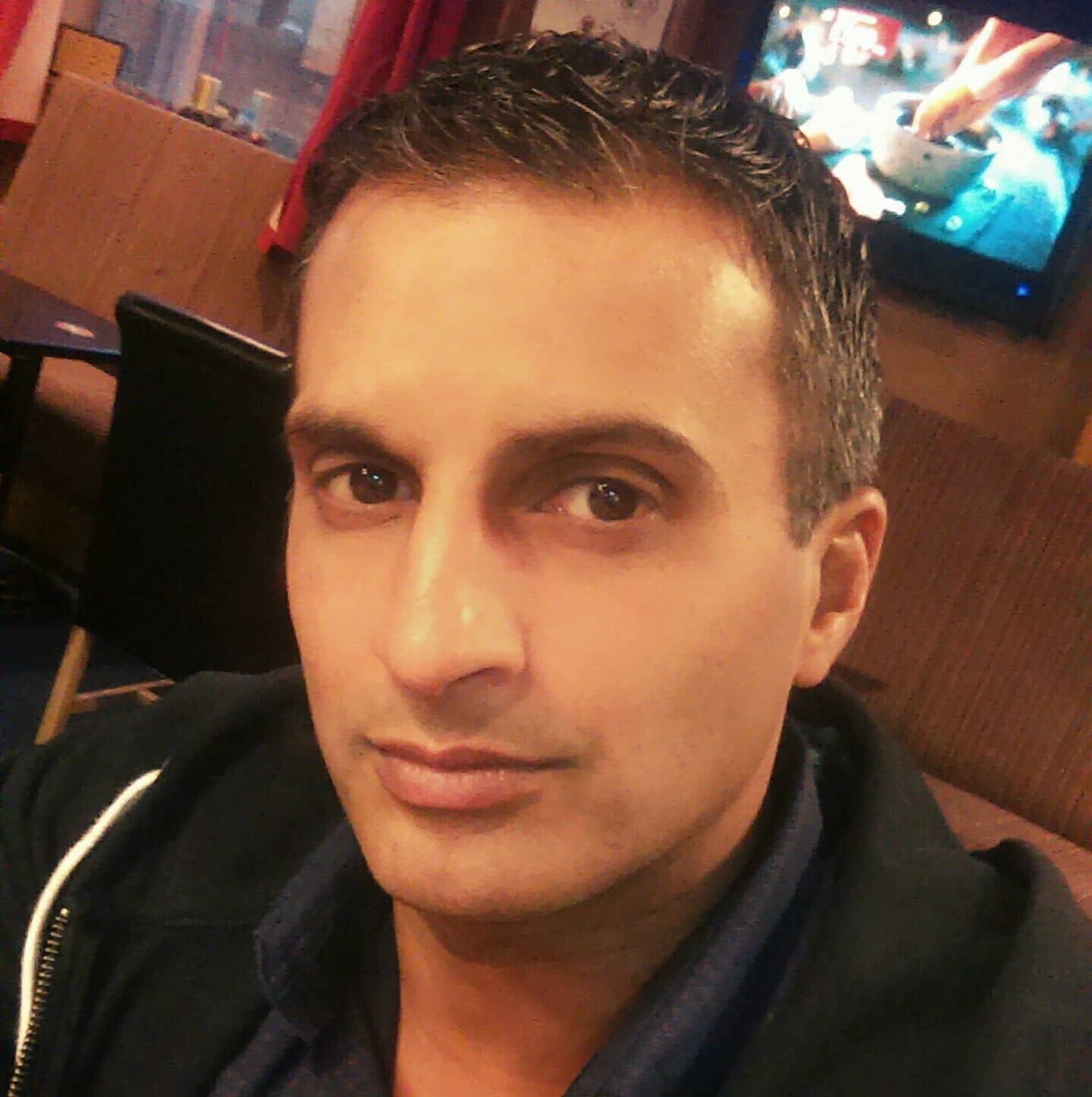 Hi, I'm Partha, the founder of My Bodyweight Exercises. I'm someone who's been passionate about exercise and nutrition for more years than I care to remember. I've studied, researched, and honed my skills for a number of decades now. So, I've created this website to hopefully share my knowledge with you. Whether your goal is to lose weight, burn fat, get fitter, or build muscle and strength, I've got you covered.