Today's article is inspired by a conversation I had with someone in the gym yesterday morning.
We were actually discussing some of the training and workouts I did in preparation for the Spartan Race last year, and I nonchalantly reeled a wide variety of exercises, until I was stopped dead in my tracks.
"What is the bear crawl exercise?" I was asked by this same someone, who glazed over and looked pretty lost.
I realised the error of my ways – what may seem obvious to me could be a complete mystery to someone else.
However, I will say that hands down (non pun intended) that the bear crawl exercise is one of the best bodyweight exercises ever, and one that you should definitely be doing.
What is the Bear Crawl Exercise?
I guess the clue is in the name, and this awesome exercise basically mimics the movement a bear makes.
Okay, admittedly not many of us have come face-to-face with a bear in our lives (and if you have and you lived to tell the tale, I'm guessing you're probably already in pretty decent shape anyway from all that running away), so the movement pattern required may not be instantly recognisable.
The bear crawl involves getting down on the floor on all fours, initially in the same position as if you were about to perform a push up or a plank (don't worry, I have provided a video presentation below).
In fact, the bear crawl could actually be called a type of moving plank.
Plus, I often like to ramp things up a bit, so I'll occasionally perform push ups while completing bear crawls.
The most basic form of the exercise will involve moving forward in a straight line, although there are many bear crawl variations.
The idea is to keep your hips as low as possible (so no backside sticking up in the air please) and propel yourself forward by moving your opposing arms and legs at the same time.
Therefore, when your left arm moves forward so does your right leg, and when your right arm moves forward so does your left leg.
Admittedly, it may take a little practice at first, but once you've nailed the movement it tends to come extremely naturally.
Bear Crawl Exercise Video
Bear Crawl Exercise Muscles Worked
I've recently spoken about performing compound exercises irrespective of your body composition goals.
A compound exercise is basically an exercise that works multiple muscle groups at the same time.
The more muscle groups you work the greater the benefits to you.
So, putting the bear crawl to one side for a second, whenever you workout, always aim to perform compound exercises, whether you're looking to lose weight, burn fat, or build muscle and strength.
Now how's this for a compound exercise – with the bear crawl you will work the:
Back
Chest
Core
Glutes
Hamstrings
Hips (and Hip Flexors)
Quadriceps
Shoulders
Triceps
Oh yes, and let's not forget that your cardiovascular system is going to get a great workout too.
If we had to have a pound-for-pound world champion for the greatest bodyweight exercise ever, you can bet your bottom dollar that bear crawls are going to rank extremely high on that list.
I will also say that bear crawls have in part been responsible for loosening up my very tight hip flexors, as well as helping me to achieve some great abs (well they did last year while I was in training for the Spartan Race anyway).
Bear Crawl Exercise Benefits
I would think that the benefits of the bear crawl are already starting to become very clear, especially when you consider how many different areas of the body you are working at one time.
I've already mentioned from a personal perspective how bear crawls have done some amazing things for my hip flexors and abs, but there were certainly a wealth of other benefits too.
This very basic exercise almost reminds me of a baby crawling on all fours, and trust me after a few minutes of bear crawling you could end up crying like one too.
The bear crawl is one of the many animal movement exercises, which seemed to have exploded in popularity a few years ago (although they have been around for many years).
I guess this is because there was a bigger focus on functional training, basically exercises that train the entire body and give you more bang for your buck.
Whereas machine and isolation exercises took a back seat.
Bear crawls offer a huge number of benefits, including:
Strength
I've mentioned that the bear crawl is very much like a moving plank and you'll definitely strengthen your core.
Strengthening the centre of your body is essential, as this where practically every functional movement stems from.
RELATED====>Crunchless Core Review
Plus your shoulders, arms and glutes will get a great workout.
In fact, you could see some great strength improvements in all these areas in a fairly short space of time.
RELATED====>Unlock Your Glutes Review
Mobility
I think the reason for the improvement in my hip mobility is because bear crawls will see the hips go from fully flexed to fully extended with each movement.
There aren't that many exercises that will take the hips through their full range of motion so brilliantly as the bear crawl.
Any form of mobility training is a great way to manage any body imbalances and reduce the risk of injury, as you are taking the muscles, joints and tendons through their entire range of motion.
Conditioning
Speed is not an issue when it comes to bear crawls and you can go as fast or as slow as you wish.
Just the fact that you are working so much of the body with one movement will have you breathing heavily a lot quicker than you would imagine.
In fact, I think there are few better conditioning exercises than the bear crawl and I can guarantee that you won't be able to crawl anywhere near as long as you can plod along on a treadmill, and yet the bear crawl will do far more for your body composition goals.
Versatility
If you're not ready for resistance training just yet then bear crawls are a fantastic way to strengthen the body in preparation.
You can also perform bear crawls in every different direction, as well as adding resistance, such as weighted vest, or pushing a 20lb medicine ball, or holding light dumbbells in your hands, as we included as part of our Spartan training.
Mental Fortitude
I love an exercise that challenges the mind as well as the body.
Well, in truth all exercises that aren't low-intensity will this in some way, as the mind wants to give up when we think we've had enough.
I once read that when the mind typically tells us it's "had enough" of doing a certain exercise we are actually only about 40-50% done physically.
So, judging by these figures you could actually do double the amount of an exercise when you're ready to give up (think about marathon runners who hit "the wall" and tell themselves they can't run another step).
I wouldn't suggest trying this with every single exercise you perform, as there is a risk of injury.
However, from a personal point-of-view up until last year I had never bear crawled for longer than 60-90 seconds in one set before stopping.
I was generally pretty puffed out and gasping for breath by this stage.
And then as I say, with the training I completed last year I actually managed over 20 minutes of continuous (forward and back) bear crawls.
I would have thought this was impossible just a few months earlier.
To be honest there are many more benefits of the bear crawl that it's just too difficult to name them all.
How to Use The Bear Crawl
I initially only ever used the bear crawl as a warm up for training and to be honest it's pretty much perfect for this.
It will get your heart pumping, wake up your central nervous system, and warm up just about every muscle in your body.
However, after bear crawling forwards, backwards, and side-to-side for over 1km at a time (I would not recommend this unless you have a very high level of strength and fitness) for much of last year, I'm now far more aware that this exercise shouldn't be written off purely as a way to warm up.
With that said, it's still better than any other warm up than I can think of.
If you're looking to get an entire workout from the bear crawl then you will generally need some space to do this.
I have usually performed them outdoors in my local park (cue funny looks from humans and getting sniffed at and licked by dogs), or at the gym (usually in the studio area or the long runway they have between cardio machines).
Nevertheless, if room is at a premium, you can still perform bear crawls.
As long as you have enough room to take two "steps" forward and then two "steps" back again, you're good to go.
You can perform bear crawls in timed drills, such as a Tabata bodyweight workout, crawling for 20 seconds, resting for 10 seconds, and repeating this sequence 8 times.
Then there's the bear square, which involves crawling forward, to your left, backwards, and then to your right to complete a perfect square.
How big that square is will depend on your current fitness levels.
As a beginner, completing a 5 yard bear square, resting, and then repeating 3-4 times would be an awesome workout.
You can make your square 10 yards, 20 yards, 50 yards, or whatever distance you like.
I've mentioned the use of added resistance, such as a weighted vest, medicine balls, dumbbells, perhaps even a sandbag, basically whatever takes your fancy.
I've even done bear crawls simply going forward around 20 yards, performing 10 push ups, backwards for 20 yards, and once again performing 10 push ups.
Once again pick and choose the distance and number of push ups based on your fitness levels.
You could even perform the equivalent of hill sprints with the bear crawl exercise.
Find a steep incline of about 40-50 yards and crawl as fast as you can to the top. Get up, walk back down, and repeat 5-6 times.
I can guarantee that this 15-minute workout will have you breathing and sweating harder than 30-40 minutes on any cardio machine, and it will have far better health benefits in the long-run.
The possibilities with the bear crawl exercise are endless.
38 Crawl Variations
I absolutely love this video from Men's Health. It is mainly focused on giving you a great core workout, but you will hit just about every muscle in the body, as well as your cardiovascular system.
You'll also discover a few of the other animal movement variations, including another of my favourites, the crab walk.
Enjoy
Final Thoughts
I never realised when my wonderful gym friend asked me, "What is the bear crawl exercise?" that I'd have so much to say about it, and all of it good.
I really can't think of anything bad to say about the bear crawl exercise and I highly recommend it to everyone.
If you want just one exercise to help you produce a strong, fit, lean, and athletic body then you must give the bear crawl a go.
You could even spend just 8 minutes a day crafting this "ideal body".
Why not try the Tabata workout tomorrow morning (better still, go and do it now).
Remember 20 seconds of work, 10 seconds of rest, completed 8 times.
That's 4 minutes, take one minute's rest, and then repeat.
You've just set yourself up for a great day and worked practically every single muscle in the body.
Now go and start crawling.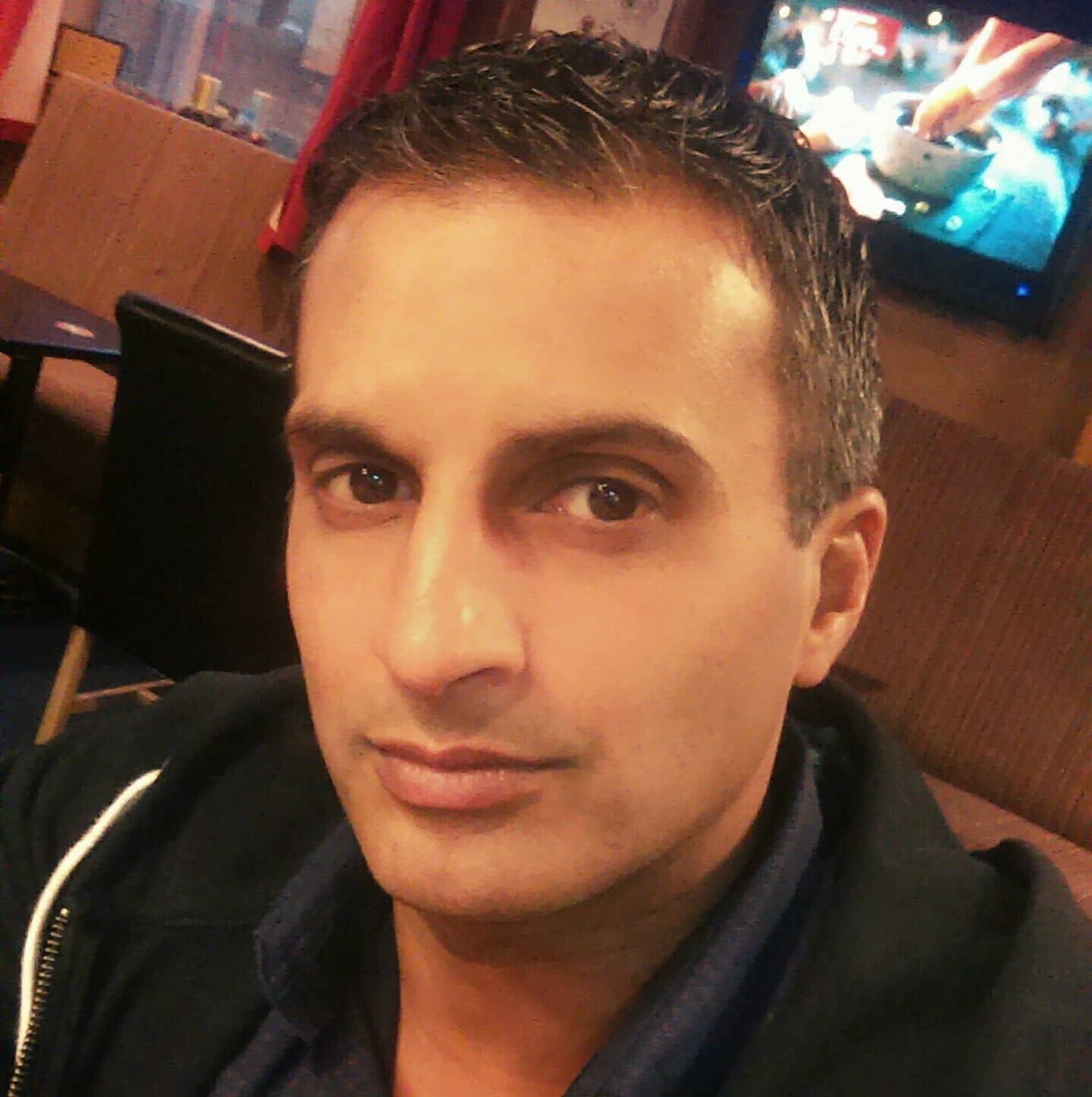 Hi, I'm Partha, the founder of My Bodyweight Exercises. I'm someone who's been passionate about exercise and nutrition for more years than I care to remember. I've studied, researched, and honed my skills for a number of decades now. So, I've created this website to hopefully share my knowledge with you. Whether your goal is to lose weight, burn fat, get fitter, or build muscle and strength, I've got you covered.